Bicycling can be one of the most beneficial things you can do for your happiness, health, and well being. As you cruise on your bike through country roads, winding streets, and hilly areas, you can clear your mind and work on your physical health.
This low impact activity is not just a way to exercise. It is a way to enjoy the outdoors and cruise around looking at new or favorite scenery. However, as the seasons change and the weather gets colder, biking can tend to take a back seat- especially if you live in a snowy city.
Biking in the snow is almost impossible and when the first snow hits the ground, many bikers hang their bike up for the season.
Whether you bike for enjoyment or as your mode of transportation, the changing of the seasons no longer has to be a worry for anyone. You can now bike during the winter and snow! How? With a Fat Bike.
Fat bikes are gaining popularity for many reasons. They are fun to ride and can go from sand to snow with the change of the seasons. Fat bike tours are an exciting new adventure for mountain bikers that typically think they can only mountain bike during the warm weather. So, what exactly is a Fat bike?
Fat Bike Design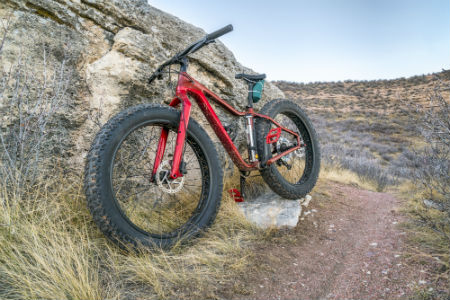 Fat bikes, also known as fat-tire bikes or "fatties" are exactly as they sound. It is simply a bike with fatter or wider tires than a typical bicycle. The significance of a fat bike is the tire and its rims. These tires range in size from 3.7 inches to 5.2 inches. The tires are affixed to oversized rims as well. The rims range from 50 millimeters to 100 millimeters wide. Along with wider tires and rims, the tire tread plays a part in the ability to ride over softer terrain. Some tires have large knobs that are spread out over the tire, others have smaller knobs, while others still have small studs on the tires. Each type of knob and each size of tire and rim will help you out in different terrain.
Suspension is another factor that changes in fat bikes. Full suspension on a fat bike can help the rider to feel more balanced and stable on the slippery, rocky terrain you may encounter. Full suspension will make it so that the rider feels less of the bumps, slipping from wet terrain, and keep the rider from being hammered and battered from whatever they may face. Needing to maneuver the bike easily is necessary during these types of rides and full suspension helps with that.
Fat Bike Uses
Fat bikes are a fun, effective way to get around on a lot of different terrain. Fat bikes can be ridden on sand, dirt trails, muddy trials, and in the snow. The wet, soft terrain cannot keep an avid, enthusiastic biker away. Fat bikes are made for the type of weather and ground that a typical, smaller tired bike cannot overcome. The best part about these bikes is the ability to extend the seasons in which you ride your bike. You no longer have to put bike riding on hold until the spring or summer when the conditions are warmer and dryer. You can now ride a bike year round, in all seasons and all conditions.
The fact that this bike can go on all terrains helps the most passionate of bikers. If you want to take a joy ride all year round, fat bikes will make that possible for you. Mountain biking does not have to be a spring or summer, dry and warmer weather activity. Fat bikes make it possible to mountain bike year round in the muddy, wet, snowy weather of fall and winter as well.
At Rocky Mountain Outdoor Center, we provide some of the best outdoor activities around! One of our newest winter sports, that we are so excited about, is fat bike riding tours for those seeking some adventure this winter. We have beginner and intermediate tours and trails for all levels of skills. Our trails and routes are fun to cruise along and work through while you see the beautiful surroundings. There are some trails that can be laborious so be prepared to have fun and work! We provide full day tours, the fat bikes, and all of the biking gear you will need. We will also prepare lunch for you. Be sure to dress warm and be ready for the snowy weather to bike around some beautiful trails. Book your tour today, you won't regret it!