FLOOD WATCH – A GUIDE TO HIGHWATER RAFTING
You've watched the snowflakes drift past your office window all winter. You've navigated icy highways to ski resorts blanketed in record-breaking snowfall. You've spent frigid mornings shoveling and dreaming of sunshine and splashy fun. But you know spring river flows are predicted to be quite high. You may have even seen graphs comparing this winter's Colorado snowpack to previously historic seasons. Your kayaker friends are giddy with excitement and anticipation of "high water," throwing out names of rapids like Zoom Flume and features like Big Drop in Browns Canyon, the heart of whitewater addiction in Buena Vista, Colorado.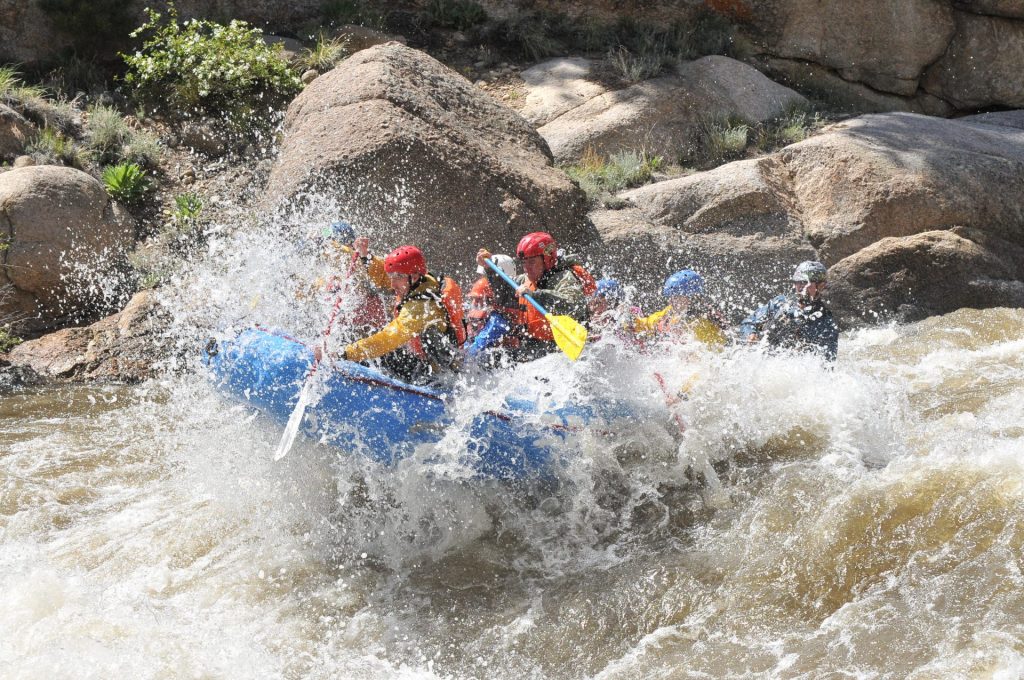 Have you heard reports of high water on the Arkansas River this summer, but still want to enjoy a whitewater rafting adventure?  Check out these tips for planning your ultimate river trip.
Inquire about different river sections and trip difficulty at higher water levels. At the Rocky Mountain Outdoor Center, we offer a variety of sections with varying levels of difficulty. For a description of river classification and ratings, see the Safety Code of American Whitewater. And always heed outfitter guidelines about minimum age or weight recommendations when bringing young children.
Be honest about health conditions, swimming ability, and desired adventure level — of every member in your party. Rafting is a team sport. Make sure everyone in your group is prepared for a high-water experience, which could include a swim through rapids in cold water.
Wear a wetsuit and snug river shoes. Some outfitters may have an extra charge for these items the day of your trip, but these items come FREE of charge at the Rocky Mountain Outdoor Center. Ask about what gear is provided when booking your trip – and how you can keep extra warm by bringing your own synthetic baselayers, fleece, and wool socks. Neoprene "booties" or river shoes will stay on your feet and also help keep your toes from freezing while bracing in the raft.
Listen to your guide. For reasonably fit adults, high-water rafting can be a thrilling, live-to-tell-about-it adventure! Your raft guide will give you detailed instructions on how to paddle and make the necessary moves. Feeling confident in your team's ability to maneuver the raft through crashing waves is one of the best parts of high water rafting! —Kate Stepan