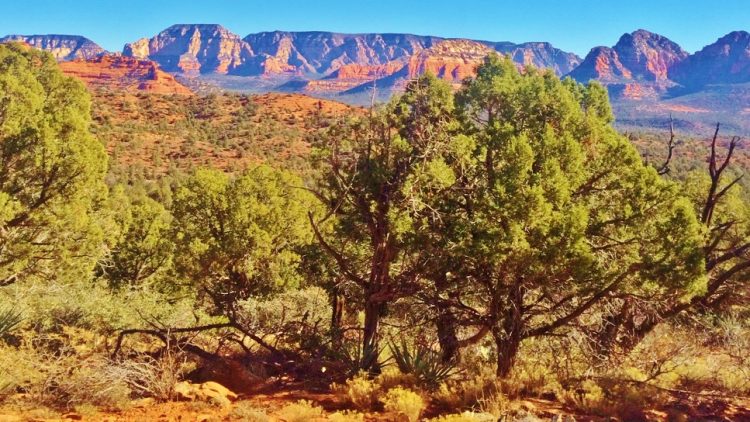 Some people say that the adventure does not begin until something goes wrong.  If that is the case, then this trip was not an adventure.  Somehow the stars aligned to create the perfect biking trip to Sedona, Arizona.  The weather was perfect, not even a cloud or a whisper of wind.  Our equipment performed wonderfully, so my friend Seth and I got to enjoy epic riding day after day, soaking up sunshine on slickrock faces that are shaped wonderfully for 29" tires to fly across.  The bummer was that I only had 3 days to try and experience the hundreds of miles of trails that this area offers.  Obviously we did not get to ride it all, but each day saw over 20 miles which was certainly enough to put a huge smile on my face.
Lucky for me, Seth lives in the area and knows these trails like a baker knows bread.  This allowed me to focus on the trail and not have to stop at every intersection and get a map out to assure I was going the right way.  And with so many trails in the area, there are A LOT of intersections.  Each day started at a local coffee shop with a giant breakfast burrito and a fine cup of caffeine.  A majority of the rides can be done straight from town via connector trails like the Bellrock Pathway, but a short drive in any direction will lead you to a multitude of great trailheads.  Also worth noting is that Sedona is known for having an abundance of vortexes.  These sacred areas are known for their extreme beauty and spiritual enlightenment.  Some of the stuff is a bit hokey, but they are still neat places to stop on your bike ride.
Day 1
We took a short drive out of West Sedona to Long Canyon Road and saddled up for my first taste of Sedona riding.  I was instantly hooked on the smooth red trails lined with an array of cactus species which offer good motivation to stay on the trail.  We winded through the Chuck Wagon Trail to Long Canyon Trail and eventually stopped for a rest at Deadmans Pass.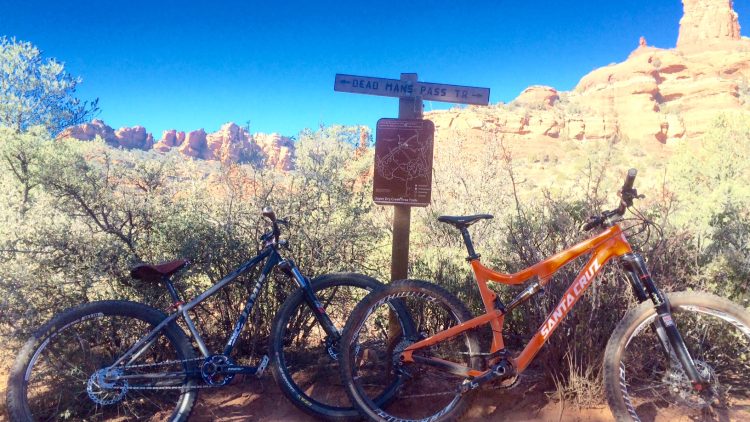 You can see a vortex from here which had a man perched high on a tower playing melodic tunes from his flute.  Throughout the entirety of the ride we could hear these calming notes at every rest break.  Next we hopped on the Aerie Trail which had awesome flow with high banked turns- super fun!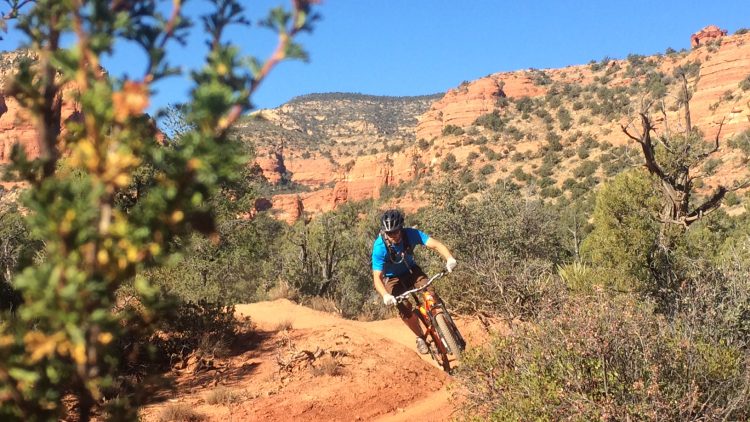 This trail brings you out around Doe Mountain where we linked up with the Cockscomb Trail and finally arrived at the popular Mescal Trail which offers a bit of exposure as you traverse the middle of a canyon rim.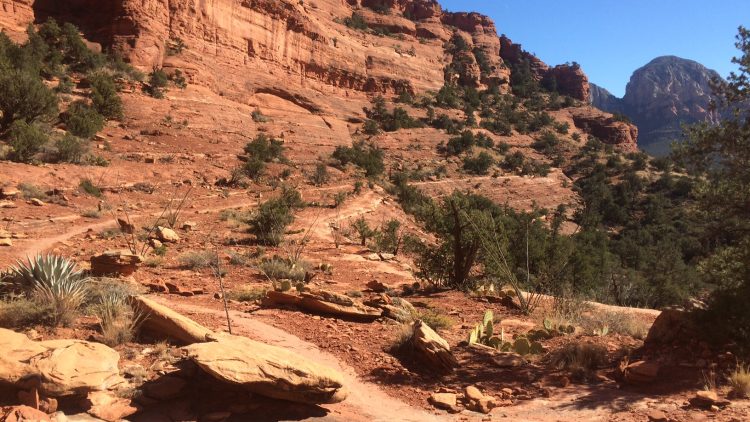 Day 2
This happened to be Thanksgiving Day which may be my favorite holiday of the year.  So we spent the morning riding with family through the mellow trails near Courthouse Butte.  Then we broke away for some more technical riding on Little Horse Trail and Llama Trail.  The Llama is a great intermediate trail with a few challenging sections.  It is the kind of trail that you could ride every day- just good fun.  We finished riding a bit early so that we had plenty of time to stuff our faces with food and drink.  What a great way to spend a great holiday!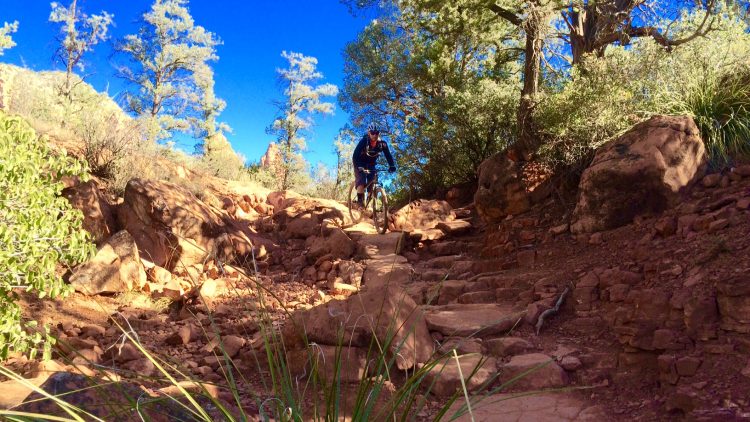 Day 3
Only one day left and still so much riding to do… The Hiline trail seemed the obvious choice as I had heard so much about it, and I was not disappointed.  This trail is definitely a must for intermediate riders, the moves are not that difficult, but the consequences are high.  There is about a 1.5 mile section that leaves no margin for error as the right edge of the trail drops off instantly to a deathly fall.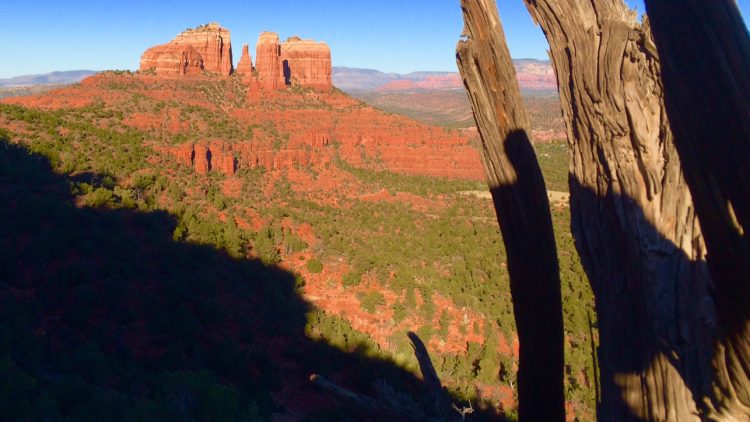 Your nerves will rest easier once you hit the slickrock section afterwards that flows smooth like a concrete skatepark.  After that the next section is pretty steep as you descend steeply towards Oak Creek, so pay close attention and hop off your bike if necessary.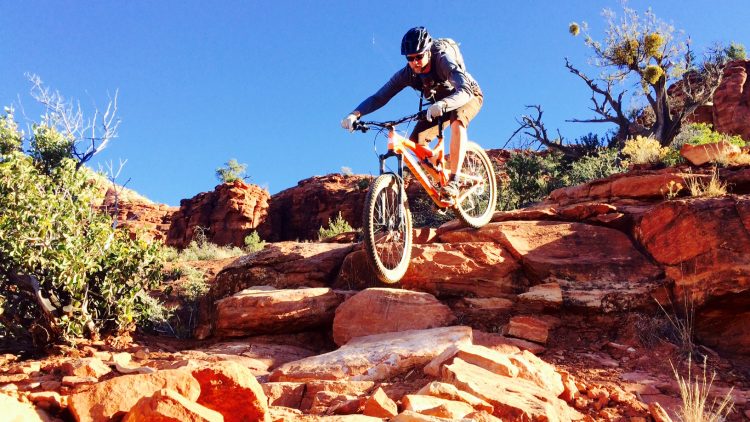 Coming back out of the Creek leads you to the North side of Cathedral Rock which hosts another famous vortex.  This area also has some sweet off-trail riding options so you may want to hang out and play around.
After an epic morning like that we decided to ride into Sedona for some food and hydration at the local Oak Creek Brewing where the portions are massive.  It was hard to motivate again after eating all that food, but it was my last day, so we headed out for one more loop.  A hot, sandy 4WD road took us up to Chicken Point where you will find the famous 'White Line' that a few pros have actually ridden.  I didn't believe it until I saw the YouTube video- absolutely insane!  Dropping into the upper parts of Little Horse Trail was well worth the long climb and a perfect way to end a perfect bike trip.  Cheers to Seth for being an awesome guide!