Fall is in the crisp Rocky Mountain air and for some that means rowing on the river. The desert calls for cooler (and less buggy!) temps, multi-day missions make sense after a summer on the water with your crew, or maybe you scored a launch date just outside permit season. Here are some top gear tips as you head out on your next river trip, or to get in the raft rowing game.
Clint Barron manages Riverboat Works in Salida, which carries rafts and some basics like drybags and spare parts, as well as builds custom frames in its fabrication shop next door. They build about 250 frames per year for whitewater and fishing, and mostly sell complete raft/frame setups. RMOC caught up with Clint, a rafter of "30-something years" who has spent 16 of those on the Arkansas, to share his advice for rafting success: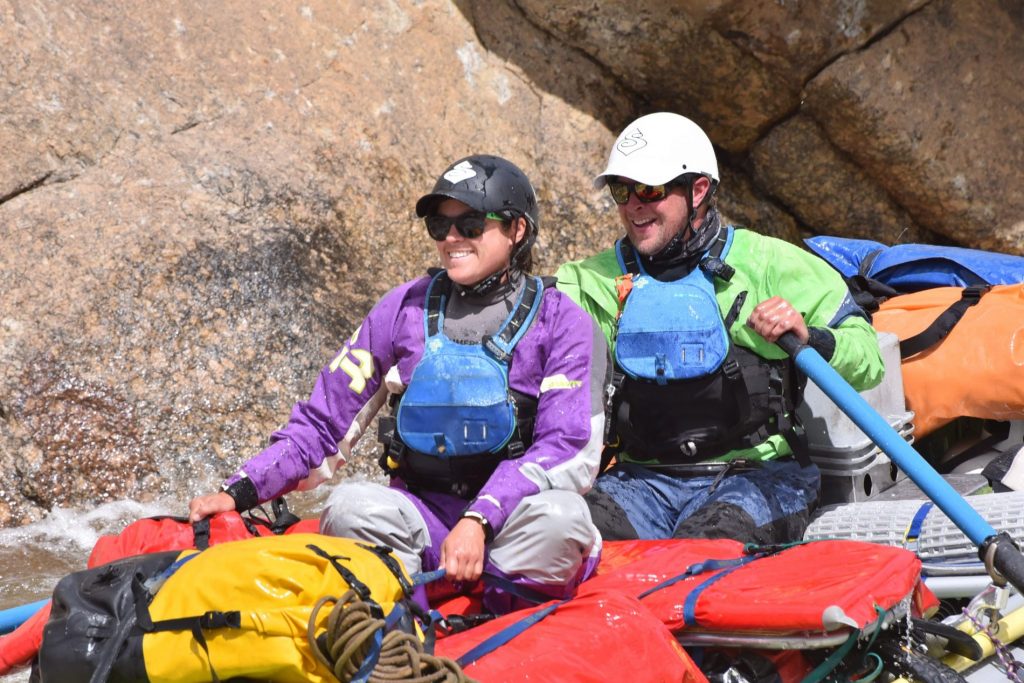 Size matters, sort of-
Thirteen-foot is a good "starter boat" on the Arkansas, Clint says, "and I had a family of four and a dog." For multi-day trips or frequent overnighters, 14-foot or extra-wide models may be a better fit.
Next, fit your frame. Refer to raft manufacturers' specs to determine exact width, or, better yet, talk to a pro like Clint.
Then size your oars to the frame and boat. Nine-foot oars are a good middle ground to start with for rafts in the 13- to 14- foot range — those doing more technical rowing such as on Browns Canyon might prefer a shorter oar, go longer for more leverage on big water rivers like the Colorado. When buying oars, the length specs refer to the shaft length plus the blade.
Materials-
Whitewater rafts are made of a fabric coated with a type of rubber, most commonly hypalon or PVC. Hypalon is thought to be more durable, but heavier, than lightweight, cheaper PVC. Whichever you choose, maintain your raft's luster and pliability with a coating of a rubber conditioner like 303 at least once a season, and definitely before storing for the winter. And know what material you have before attempting a repair to make sure your glue job will last.
For oars, "steer people away from Carlisle," Clint says. Oars with plastic sleeves have additional parts that can break. Clint reccomends a composite oar shaft with a rope wrap, like Sawyer Polecats, which run about $25 more per oar than Carlisle. Sometimes you can save on the high-end materials by using a Carlisle as a spare, or putting a plastic blade on a composite shaft.
Purpose-
Consider whether your raft's main use will be fishing or whitewater, overnights or mostly day trips. And how many people you plan to carry.
Unless you are a fly-fishing guide, casting floors may be unnecessary, Clint says. Floors and extras like lean bars and swivel seats can also be removable, but consider the time and effort this takes and plan accordingly for the raft's primary set-up.
Trick out your frame-
The sides of the frame can be fitted with diamond plate to provide more rigging options and stability while walking around on the raft. "Poly-deck" plastic platforms can also be mounted as lids to a drop-bag hatch, which provide a wider lounging platform than dry boxes alone. Consider making some of these additions multi-use — such as adding screw-in legs to a hatch cover to make a tall camp table.
Retain your oars and carry spares-
NRS and other companies make oar leashes that have a metal ring that goes around the shaft and attaches via cam buckle to a strap on a frame. If you know how to tie a bowline knot, a strand of hardware store rope will suffice to keep it close to the boat in the event you pop an oar from the tower on a rock, or the raft flips.
Assemble a small toolkit to carry on the river, including a spare oar, oar tower, oarlock, oar sleeve if applicable, and whatever tool you need to adjust the frame.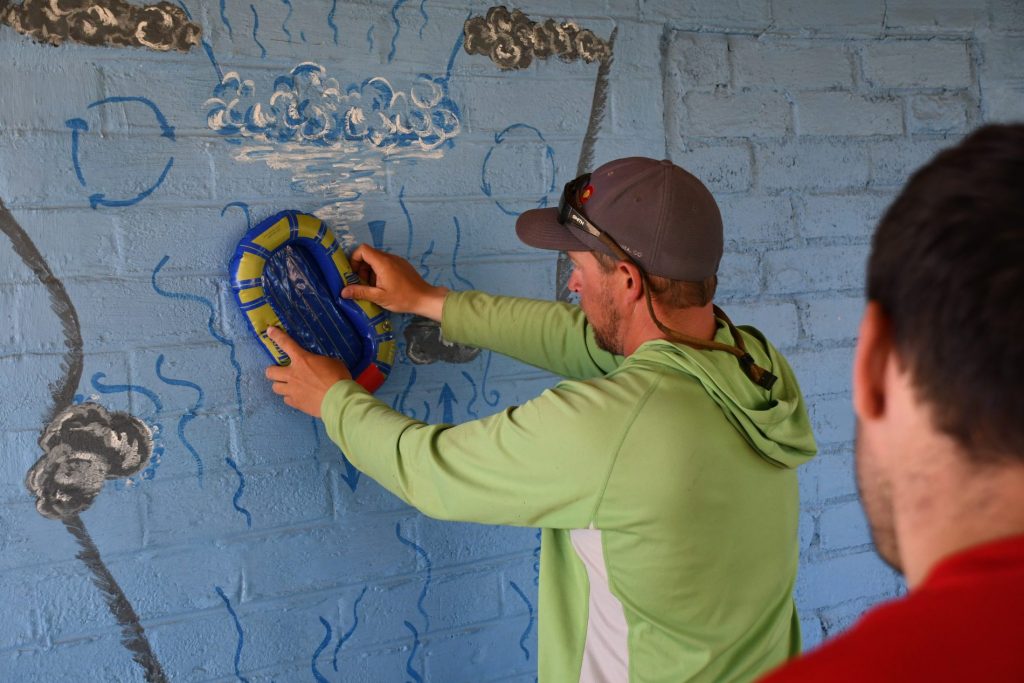 Take a lesson and rent first-
Rocky Mountain Outdoor Center (RMOC) offers a series of rowing classes for the complete newbie to river rats looking to step up their rafting game. You will learn the basic body motion of rowing (or make your movements more efficient) and what to do if the raft flips in calm water before taking on Class 2 rapids. Or, better yet, take a private lesson with your own raft setup to dial in your maneuvers and answer any equipment questions.
RMOC and other outfitters will also rent out equipment, especially if you have been attending classes and can accurately describe your river safety skills. This can be a great way to "test-drive" a raft and frame setup to learn what you like and don't like. CKS Main Street in Buena Vista also offers demo boats to try raft manufacturers' latest rides.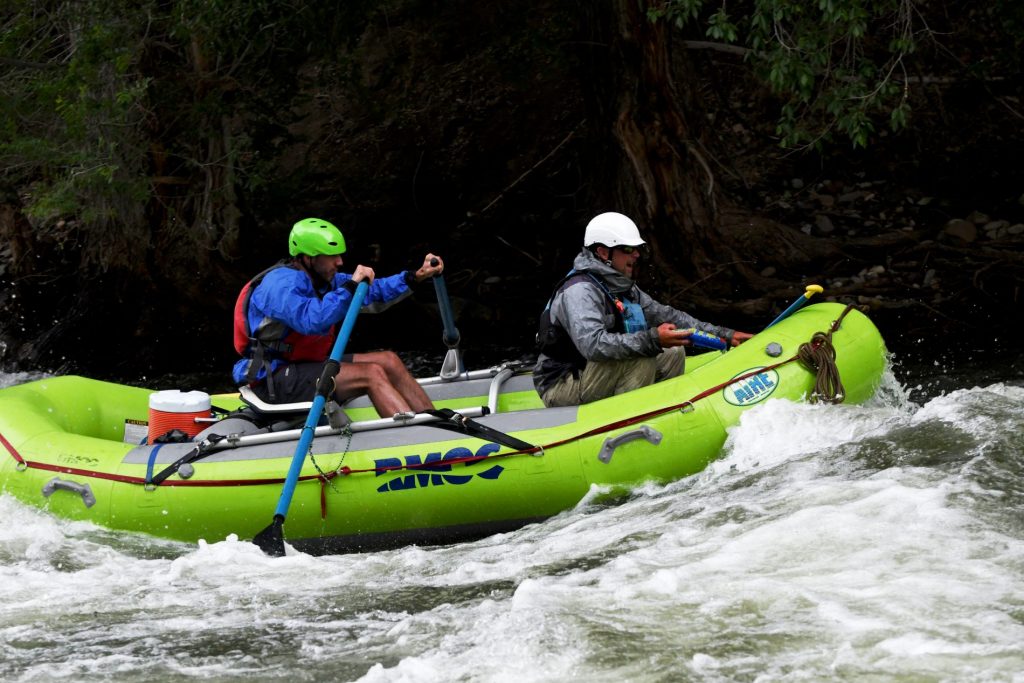 Extra credit: Pimp your raft's ride-
Will Hodge at Ark Welding in Salida is happy to build or customize your trailer into a raft-hauling beast. Consider factors like storage under the raft, and extras like a roller bar and winch for heavy fishing rigs or solo loading. Then become familiar with basic electrical wiring and practice those trailer backing skills!
Salida and Colorado rafting resources- 
Salida is pretty much Rivertown, USA when it comes to local rafting resources. Find what you need at:
Riverboat Works — riverboatworks.com
Operating for 18 years, it's Oak Street garage storefront is unmistakably adorned with brightly colored rafts and catarafts.
Colorado Frame Supply — coraftframe.com
Fabricators of made-to-fit raft frames and dryboxes in their shop on Highway 50 just outside Salida.
Inflatable Restoration & Repair — raftrepairbyirr.com
Erik Lang is a one-man show at his raft repair shop in Swissvale — expect a professional job, but it just may be after he gets to the pile of commercial rafts in the driveway.
Colorado Raft Rental — coloradoraftrental.com
Rents out several complete set-ups for overnight or multi-day trips, 13- and 16-foot rafts, as well as paddle rafts and fishing rigs in Buena Vista.
Tuff River Stuff — tuffriverstuff.com
"River Rat Ray" sells all the extras you need to make your river camp comfy. He and his team also sew bomber drop bags and other accessories out of his signature proprietary Dacron mesh.
Down River Equipment — downriverequip.com
A bigger distributor and manufacturer of made-in-Colorado rafting goods located in a dog-friendly shop just outside Denver.