With lush forests and snow-covered mountains, Colorado provides a stunning landscape for outdoor recreation. It also comes with certain risks, especially for inexperienced outdoor enthusiasts. If you're planning to ski, snowshoe or hike in avalanche terrain, it's important to be aware of the hazards. Here are some reasons you should take an Avalanche and Wilderness Training course, along with some details on what you will learn during your class.
What's the Risk?
Avalanches are a very real concern in Colorado's backcountry, where heavy snowfall can build up in unstable ways. Although the amount of snow in an avalanche can vary, it can be enough to bury the bottom of a slope and anyone in the vicinity in dozens of feet of snow.
According to the Colorado Avalanche Information Center, about 27 people die each year in avalanches across the U.S. While that may not sound like a lot, the CAIC reports that there is actually no effective way to determine the actual number of people affected by avalanches each year because the majority of non-fatal avalanche incidents are never reported.
According to statistics, victims of avalanches tend to be skiers, snowboarders, snowmobilers, snowshoers, climbers and hikers. Unfortunately, because many of these people haven't received proper training, they don't know how to recognize problematic areas or avoid behaviors that inadvertently trigger avalanches in their areas. 
Why Training Helps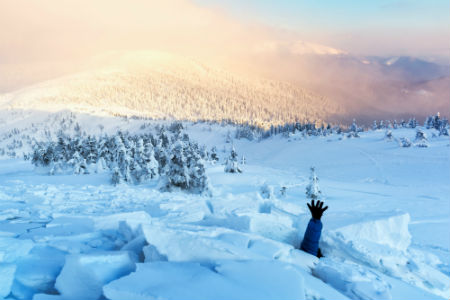 In short, Avalanche and Wilderness Training can save your life. In addition to helping you learn to identify and avoid high-risk areas; the course will provide invaluable information that can help you survive an avalanche. You will also learn how to avoid accidentally causing an avalanche in the first place. 
Many people are surprised to learn that avalanches are commonly caused by artificial triggers, such as gunshots, snowmobiles and skiers. When avalanches occur, the rushing snow can quickly reach speeds exceeding 80 miles per hour. Skiers and hikers caught in serious avalanches can be covered in dozens of feet of snow. While it is possible to dig yourself out of an avalanche, not everyone is able to escape.
If an avalanche tosses you about and you find yourself buried under snow, you may lose your sense of which way is down and which way is up. Some victims have tried to dig their way out of an avalanche, only to find that they were digging in the wrong direction. In an Avalanche and Wilderness Training course, you will learn that it's best to "swim" to the top of the rushing snow to remain as close to the surface as possible. You will also learn that, once the snow stops, you should dig around yourself to create an air pocket so you can breathe. Most importantly, however, you will learn how to identify high-risk areas and avoid avalanches in the first place. 
What Course Is Right for You?
There are different recreational-level avalanche courses available based on your background and needs. 
A stand-alone, decision-makers class, the AIARE 1 course provides all the information you will need to safely experience the backcountry.

Available to everyone, the Avalanche Rescue Course is another one-day, stand-alone class designed to help sharpen your skills. Although it is a prerequisite for AIARE 2, this course is appropriate for anyone, whether you're a seasoned backcountry explorer, aspiring professional or inexperienced outdoor enthusiast just learning how to use a beacon.

The AIARE 2 course is designed for backcountry travelers looking to deepen their decision-making and facilitation skills. It's a great way to continue avalanche education and learn new tools.
The gold standard for avalanche safety, AIARE education is a pre-requisite for many professionals. That said, it's also recommended for anyone who wants to safely enjoy Colorado's backcountry. Students get an opportunity to see the incredible destructive power of avalanches, learn how people typically get in trouble and discover the basic fundamentals of how to avoid them. Best of all, this invaluable education is taught from the perspective of avalanche professionals, accident victims and rescuers, who all have extensive, first-person knowledge of just how dangerous avalanches can be. 
In addition to taking a certified Avalanche and Wilderness Training course, you should carefully monitor avalanche conditions anytime you plan to explore Colorado backcountry. The Colorado Avalanche Information Center provides a convenient, regularly updated map that ranks specific regions based on avalanche risk. With that said, because avalanches can be unpredictable, it's best to empower yourself by taking an accredited course to gain knowledge that can keep you and your companions safe during your outdoor adventures.